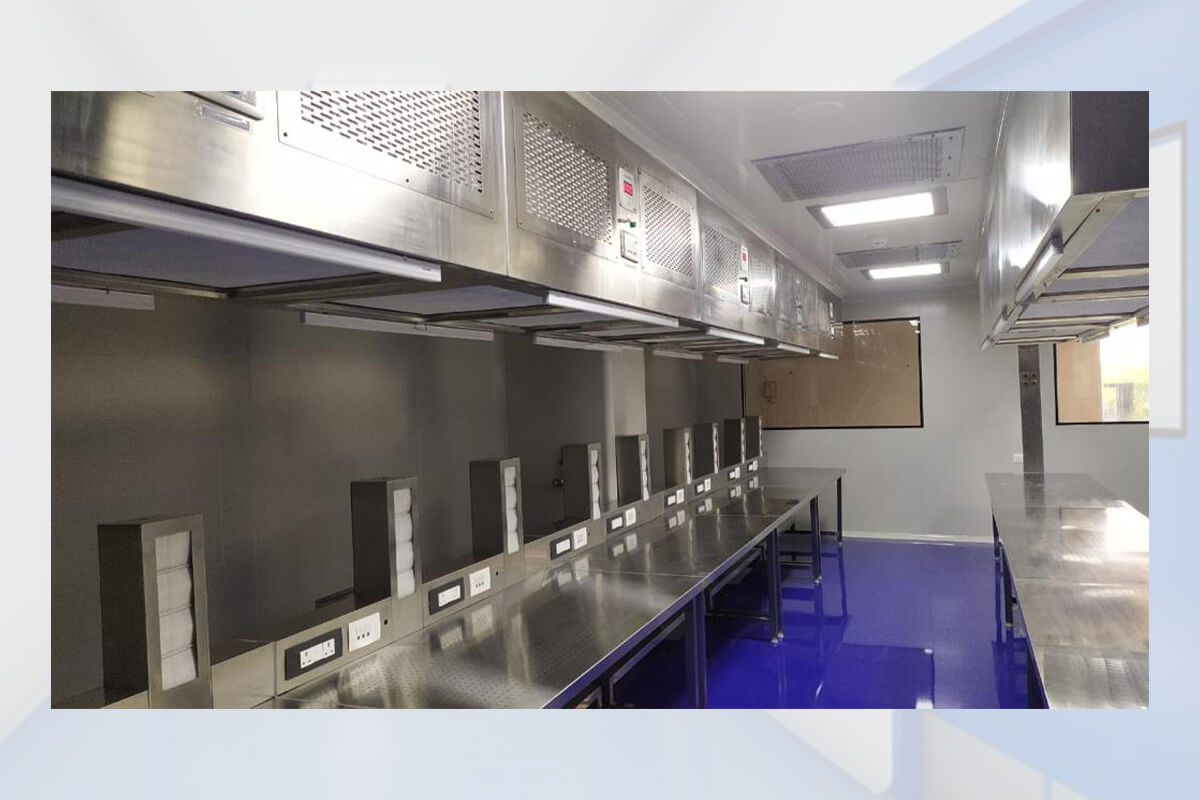 Ceiling Suspended LAF
What is a ceiling suspended LAF:
Ceiling suspended laminar air flow unit provides laminar air from the top to the processing area or working area downwards. Primarily, used in operation theatre and pharmaceutical applications. It is a containment equipment module providing ultra clean HEPA filtered air to keep the area free from impurities and pollutants in the air. Undirectional air flow is used to clean the working environment resulting in enhanced aseptic work zones. These units are made up of stainless steel material which is non-rusting and gives a smooth and polished finish. Genearlly, such cabinets are hung from the ceiling with the help of steel chains. The access to operate and service the units is provided at the bottom side of the unit.
Manufacturing and features:
We at map filters p.ltd. are the manufacturers of one of the best quality ceiling suspended laminar units in the industry. Our manufacturing unit is equipped with all the modern facilities and resources as required for the production of these ceiling units. Our units are made with high quality PVC strip, acrylic sheet and polycarbonate procured from the well-known vendors in the market. Our manufactured units are widely used in various applications like operation theaters, microbiology lab and so on. Certain salient features of such units can be summed up as below:
Stainless steel structure very modular and easy to operate and clean.
Instead of conventional gaskets, HEPA filter design proves to be much better.
Magnehelic gauges are used for filter loading.
These units are energy efficient and durable having a longer shelf life.
Audio visual alarms can be provided for downflow velocity.
The unit is equipped with emergency stop facility.
We have carved ourselves a good reputation in the field of laminar flow unit industries. This has been possible due to the informal business atmosphere created within our work unit. We have formatted genuine policies for carrying out the all the work related to manufacturing of our products. This is the reason all our customers are satisfied with our products and services. Our popularity is due to the client receptive approach and the feedback which we receive from our consumers. Timely delivery of the decided product without compromising on the quality front is our adage, which we follow very strictly. We provide customized devices to our customers as per the technical specifications and instructions received. Some of the technical specifications of our ceiling laminar air flow unit can be briefed as under:
Cleanliness : Class 100
Particle retention: 0.30 micron
Velocity: 90FPM +20%
Noise Level : 60-65 decibels
Standard : FED 209E
Power Supply: 220v single phase