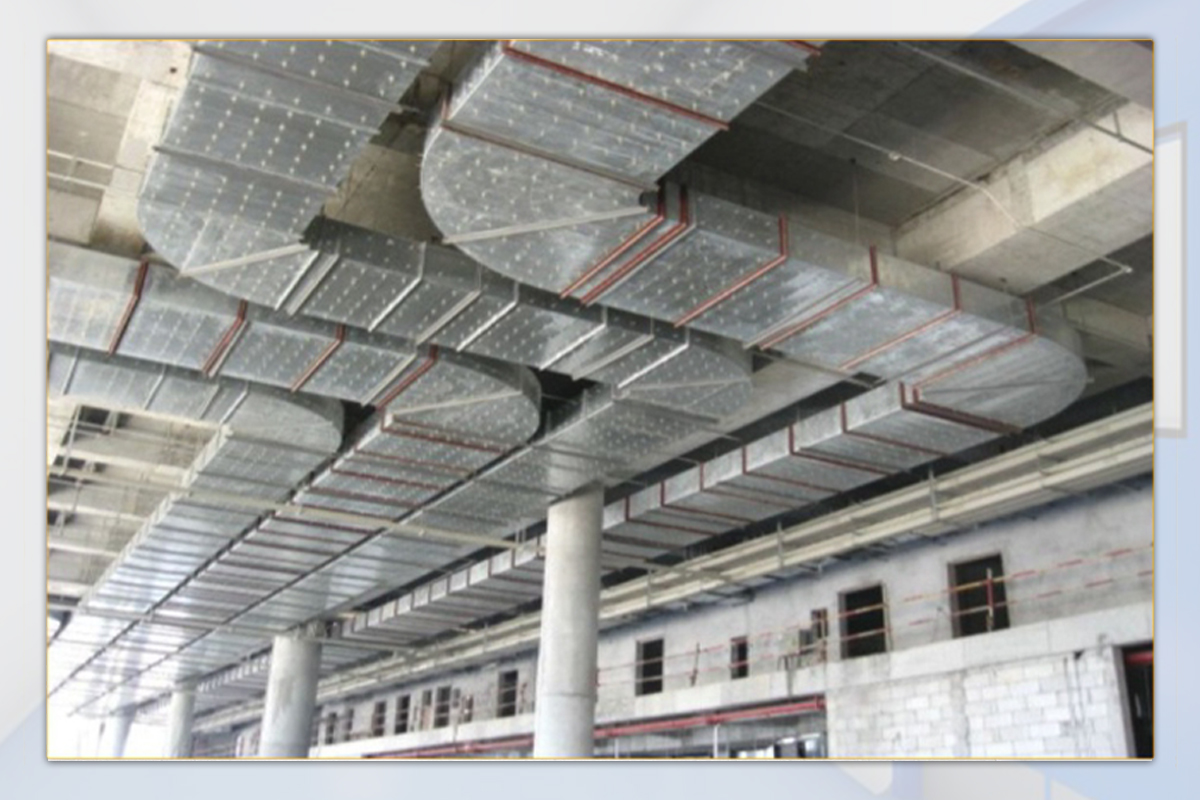 Modular Clean Room HVAC / DUCTING
Cleanroom HVAC system provides heating, ventilation and air-conditioning services in a controlled environment. It is the system which controls the temperature and humidity inside the area. The HVAC system for cooling and heating largely depends upon the exterior climate and the internal specific conditions. The HVAC system is the most effective means to cool the modular cleanroom. The filters inside the system work in a manner which draw air from surrounding room and pass the cool air in to the cleanroom without any need for special exhaust systems. The size of the cleanroom, temperature required inside and the heat dissipated all these things determine the size and type of HVAC system required. If the cleanroom is large in size, the outside air drawn and forced into the air-conditioning modules will raise the load on the units and will also increase the temperature.

Process and features : We manufacture and provide best quality HVAC systems to our consumers with one of the fine production facilities available at our end. Our quality control technicians and skilled engineers follow a strict and disciplined routine to manufacture the HVAC units. We have established ourselves as one of the leading suppliers of the units due to maintenance of our quality. Our popularity in the industry can be characterized by the salient features of our policies. These are as below:

Our business policies are firm and ethical.
We have one of the best team of engineers and dedicated workers.
We are always keen to make use of latest technology and modern equipment to manufacture our products.
The approach which we use with our consumers is always informal and client receptive.
We follow the best quality control standards for our products.
Our main motto of business is the timely delivery of our products without compromising on the quality of our product.
Process of Ducting :
Ducts and vents are manufactured and positioned in a manner that the air passing through the same is directed in a prescribed direction. When a particular duct gets blocked the passing air becomes humid and the temperature increases. In such a situation carbon gets build up across which in turn generates a risky situation. Ducting connects the HVAC system and the variable air return units to the fans and filter units and this way the temperature is controlled and the airflow is balanced. Ducting is more effective for smaller rooms to recirculate the air flow. Ducting is generally spaced above the ceiling or behind the walls which ideally depends upon the design of the complete facility. Ducting is less expensive and more safe for the setup as the main purpose of duct is to exhaust air outside the environment. One most important point in case of ducting process as a whole is as far as possible the ducts should be kept straight, the more bends to a duct the more the issue of build up of static pressure.