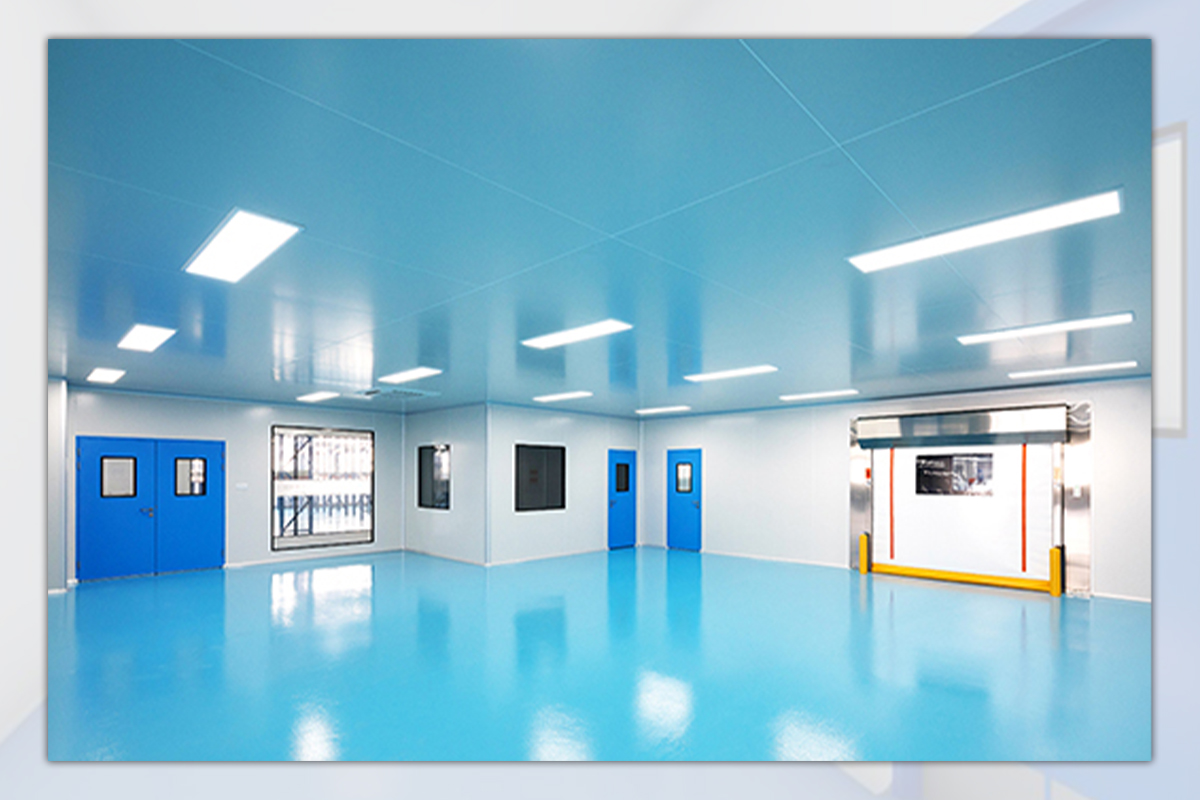 MODULAR CLEAN ROOM (WALL / FALSE CEILING PANEL, DOOR & WINDOW)
What is a modular cleanroom :
A cleanroom is a composed environment free from dust, microbes and aerosol particles. These harmful pollutants get thrown out of the room to keep the area of the room clean. Majorly, the cleanrooms are used for manufacturing industries like pharmaceutical, electronics, biotech and semi-conductor production. A modular cleanroom is a pre fabricated room as all the integral parts of the room are custom made and they get assembled to create a modular cleanroom. These pre-fabricated components include wall,ceiling panels,air locks and so on.There are certain products which should be avoided in a cleanroom which include food items, wrist watches, jewelry. One important thing to note is no two modular clean rooms are similar, the design and structure of each room differ as per the requirements and specifications. These units come in a variety of sizes and complexity.

Manufacturing and Features :
We manufacture and supply one of the finest quality of modular rooms available in the industry. Our modular cleanrooms are equipped with HEPA fan filter units, power saver and room monitoring systems. A number of salient features and benefits of the modular cleanrooms can be summed up as below :
These can control contamination and destroy other pollutants, thereby wastage is reduced to minimum and efficiency increases.
The design can be tailor made to meet specific requirements.
The parts of the room can be manufactured with little time and then all the components can be assembled which saves a lot of time.
The benefits of the HEPA filtration can be earned.
It requires low power consumption and is energy efficient.
The daily running costs are minimum.
Cleanroom walls/panels :
The cleanroom walls / panels are made from a range of materials which include painted aluminum, stainless steel, glass and polycarbonate. The interior and exterior appearance of the room depends upon which material is used in the making of the panels. Our panels are covered by transparent PVC protective film to prevent damage at the time of installation and also after installation. Our cleanroom glass panels are perfectly combined with other partition walls which get installed adjacently to other walls with a complete concealed fixing. The dimensions keep on changing depending upon the facility where these walls / panels are to be installed. We also assist installation of HPL walls.

Cleanroom windows :
Our standard cleanroom windows are equipped with tempered safety glass wrapped in anodized aluminum frames. These get pre-manufactured in our modular wall panels. We also manufacture customized cleanroom windows as per detailed dimensions received with specific size, color and materials. These windows are specifically designed for healthcare, pharmaceutical and cleanroom environments. We blend the highly graded steel materials with best quality glass to manufacture cleanroom windows.

Cleanroom doors :
For manufacturing the cleanroom doors, we make available a wide range of accessories from our end. These accessories include open press knobs, fixed knobs with / without magnetic closure and push bar handles. We also make use of tough glass panels, electrical locks, electromagnets, mechanical door contacts and so on. Our manufactured doors can be erected on partition walls, plasterboard walls. Here, we also make use of aluminum profiles which eases the making of different type of doors.

Why choose us :
We have established ourselves as one of the leading suppliers of modular and cleanroom turnkey solutions. This has been possible due to our ethical business policies and informal customer friendly approach. Our dedicated staff of skilled technicians and quality controllers are always keen to provide required services to our consumers. We make use of latest technology and modern infrastructure facilities to manufacture our product. Our custom designs for our consumers are framed in a manner which are cost effective for both of us. In manufacturing the modular equipment, we make it sure that all the quality control standards and industry norms have been complied with. We are committed to deliver our product in a timely manner without compromising on our high quality.