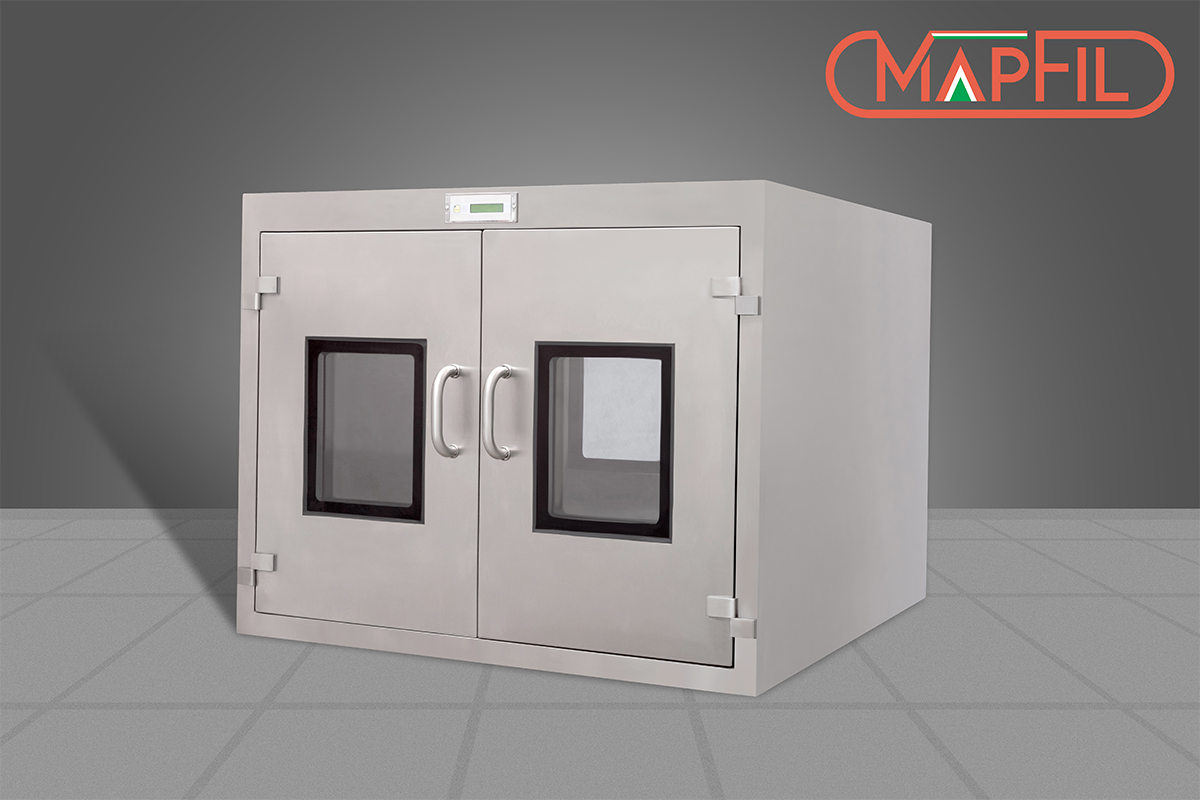 Static Pass Box
What is a pass box :
Pass box is a clean room equipment used to transfer materials from one place to other. The transfer of items or materials is done between controlled environments of different classes to avoid air borne contamination, say the materials may be moved from a high level of cleanliness to lower level of cleanliness and vice-versa. Any pollutants present on the pass box gets swiped away during the transfer activity. The key feature of a pass box is the interlocking door mechanism, where the door on one side is open the door on the other side remains closed. The main use of pass box is done in pharmaceutical industries, where this equipment is used excessively Clean room pass boxes come with different features and sizes. There are two different types of pass boxes- Static and Dynamic pass box.

Making of static box :

Static pass boxes are used to transfer materials within two rooms of equal level of cleanliness. These are designed to work with minimal personnel movement. The dynamic pass box is used to transfer materials from an uncontrolled environment to a controlled environment. Static boxes are ideal for use in the environments where ventilation is not required as here, non-sensitive products can be easily moved from two rooms of equal level of cleanliness. Static boxes should not be used for transfer of materials between one clean room and another non-clean room. Whichever type of pass box is required, one should make sure that it has a flat surface as it becomes easy to clean and maintain.

Our static pass boxes are made up of stainless steel which has many benefits about its use as it is a non-rusting. The boxes are fabricated with 304/316 grades or a combination of steel and high quality components. Our static boxes are equipped with UV light with hour meter, fluorescent light, buzzer indicator and indicating lamp which indicates that material is kept inside. Our manufactured static boxes are such that can be integrated with the clean room wall system. Our boxes are durable and aesthetically designed for long lasting performance.

At Maps Filters, we are committed to provide best quality static pass boxes to our customers. We have established ourselves as one of the leading suppliers of static pass boxes due to the best quality of our product. Our dedicated team of technicians make it sure that our product gets tested with the required parameters and only quality product is manufactured. We have a large group of consumers who are satisfied with our services due to the business approach we follow and due to our quality product. Our product is required by varied industries like pharmaceutical, chemical research laboratory, electronic industry and even food processing industries.
TECHNICAL PARAMETERS
Construction
304 / 316 / 316 L or combination
Door
Solid door w / mechanical or electrical interlocked
Window
Tempered Glass
Accessories
Hour Meter
Electricals
Hour Meter, Fluorescent light, UV light. Electromagnet for door interlocking Buzzer and indicator lamps
UV Lamp
Yes
Power Supply
220 / 230 Volts Single Phase 50 Hz
Certifications
ISO
Applications :