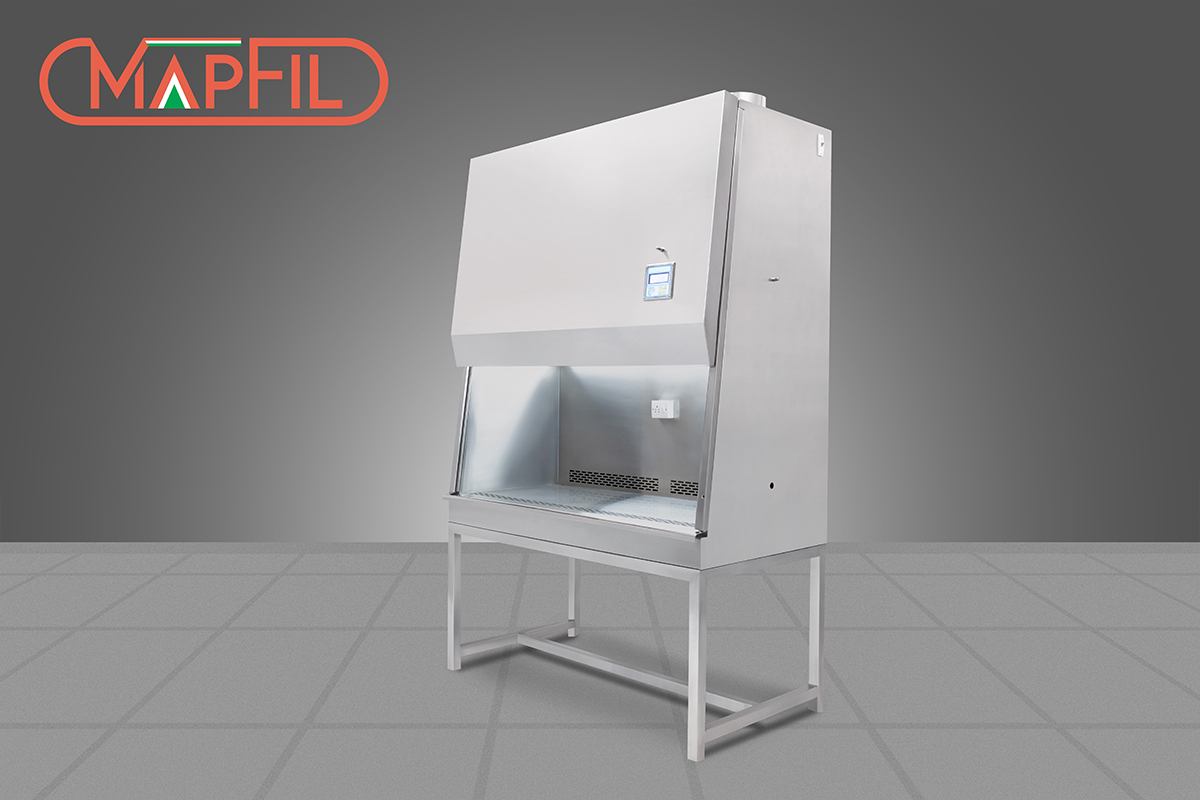 Bio-Safety Cabinets
Bio-Safety Cabinets, also known as biological safety cabinets, are enclosed, ventilated laboratory workspace areas designed to protect the user and surrounding environment from microbes. All exhaust air is HEPA filtered to remove hazardous agents such as viruses and bacteria. Bio-safety cabinets are used in many laboratories including clinical and research labs. We manufacture high class bio safety cabinet of standard & customized sizes. Harmful bacteria and virus get thrown out, as the exhaust air which is HEPA filtered, exits out of the bio safety cabinet. These safety cabinets are used on a daily basis for longer time. The use of these cabinets is very vital in handling applications requiring a sterile work zone. The inflow air inside this device creates an air flow barrier that protects the users from bio-hazards. The effectiveness of the cabinet depends upon how the operator uses it.

We at Map filters offer a range of BSC for the ultimate use of our customers. Our cabinets are used in many laboratories including clinical and research labs. We manufacture best quality bio safety cabinet of standard and customized sizes. The classification of the cabinets is done in to below 3 classes.


We manufacture top class BIO SAFETY CABINET of standard & customized sizes
CLASSIFICATION
Class - l
The class I cabinet has almost a basic and fundamental design as available in current times. The protection available is only to the persons and the environment inside, the sample being tested does not get any protection. The inward airflow in the unit leads to adulteration of products.
Class - ll
Protection for the user, environment and sample
The class - II cabinet is the most common among all the different types of safety cabinets available. These are divided into type A1/A2.Both these are similar but, distinguished by minimum average inflow velocity. It protects the persons and the environment from exposure to microbial matters and protects the products from other impurities in the air. Here, the air gets exhausted through an HEPA filter and it is recirculated back into the area or pulled by an exhaust fan, the whole operation happens with the help of ducts. This type of class is not suitable for units exposed to work with dangerous chemicals.
A class - II type B1/B2 biological safety cabinet is designed in a way to have no recycle or reuse within the cabinet. This type is more suitable for work with hazardous chemicals as there is no recirculate happening within the cabinet. These types may be considered to be the safest to use among all class - II cabinets. These cabinets have to be hard ducted to an dedicated exhaust system. These cabinets use single pass airflow so the air flow does not get recirculated. The type B2 cabinet is used in applications like toxic laboratories , where safety is of utmost importance.B2 cabinets are entirely hard ducted.
Class - lll
These type can be considered to be the most safe units for work when compared to the other classes of cabinets. The enclosure is gas-tight and all the materials make an entry and exit through a double door autoclave. Direct contact with hazardous material can be avoided due to the gloves attached in the front part. Mostly such type of cabinets are custom built as per specifications.
Choice of cabinet depends on level of protection needed for the laboratory worker and the sample of interest.
TECHNICAL PARAMETERS
Construction
SS 304/SS 316 or combination of both
Filtration
1st Stage Fine Filter with efficiency of 95% down to 5 micron
2nd Stage HEPA Filter with efficiency of 99.999% down to 0.3 micron supply/exhaust position return air filter
3rd Stage-Fine Filter with efficiency of 95% down to 5 micron
Motor Blower
Dynamically balanced with suitable ratings & suspension arrangement
Electrical Accessories
LED Lights
5/15 Amp switch socket
ON / OFF Switch
Digital Pressure Gauge
Air Quality
ISO Class 5 (ISO 14644-1: 1999)
Velocity
0.45+/- 0.05 mps
Air Flow Direction
Vertical re-circulatory
Noise
Less than 67dB
DOP / PAO Port
Optional
Optional Features
Audio Visual Alarm indicating HEPA Filter condition Flame proof Fittings.