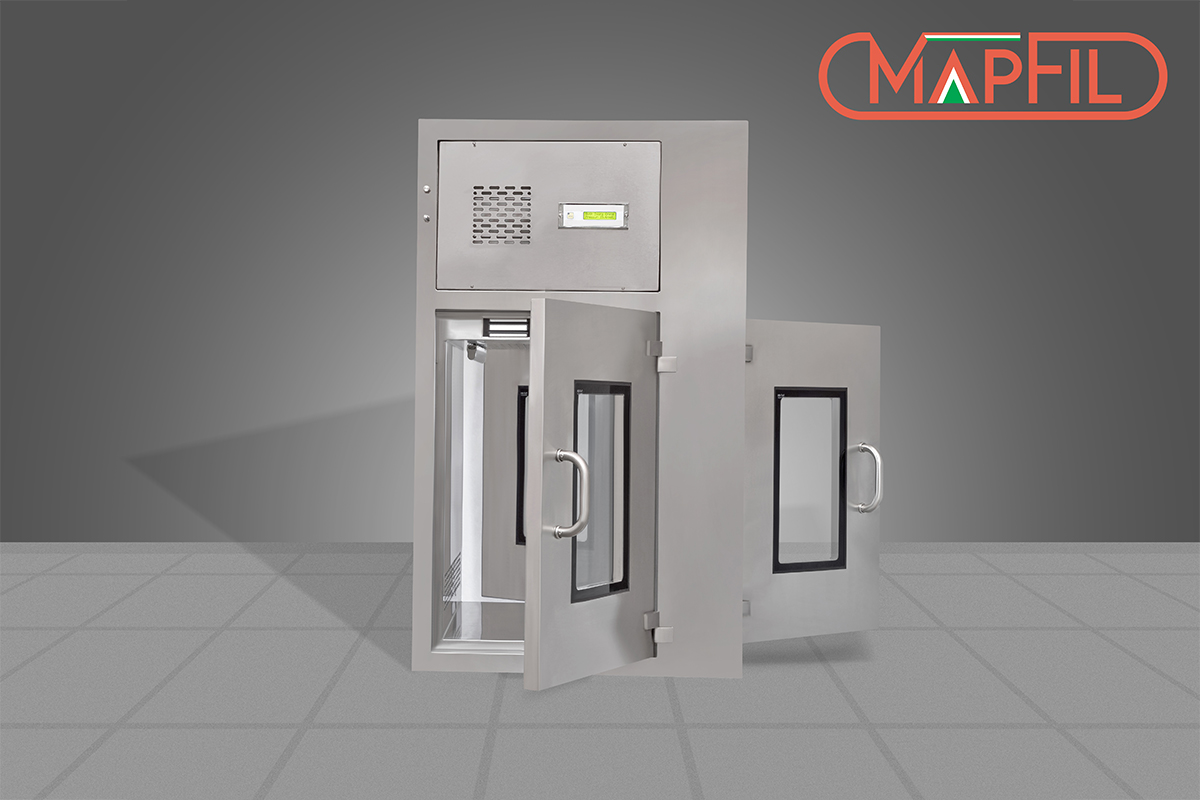 Dynamic Pass Box
What is a Pass box :
Pass box is a clean room equipment which is used to transfer materials from one room to another, only the level of cleanliness of the rooms may be different. Pass boxes may be equipped with an interlocking facility. These are fitted in the manufacturing area so that filtered air comes in and the area remains free from dust and other contaminated particles.

Making of a dynamic pass box :

Dynamic pass box is just like a laminar flow unit. It has a system known as interlock guard which helps to control both the outlet and the inlet too, at one time only any one is kept open. Due to this, dust and other unwanted particles get removed from the materials being transferred to the manufacturing area. Similar to static box, even this type is made up of powder coated high graded stainless steel with international quality standard components like UV light. These boxes are equipped with suction filters and supply filters made of aluminum which provide enhanced service. Some dynamic boxes also have a pressure gauge with appropriate range and is also fitted with a motor blower.

Our manufactured boxes consists of recirculated filtration system designed as per GMP guidelines. We manufacture one of the finest quality of dynamic box taking in to consideration the requirements of our customers that will help the particular installation area free from impurities. This type is a cubicle box fitted between classified areas. The door is fitted with a magnetic lock which gets opened and closed whenever the button is pressed. As this box is made up of steel which is a corrosion resistant material as well as non-rusting it becomes easy to clean and also the maintenance work becomes simple. The use of HEPA filter and H-14 filter is done to supply air. The box is armed with magnetic differential pressure gauge. It is a rectangle shaped compartment with glass doors for viewing making it a transparent unit. The direct air flow gets restricted between the clean room to the other room.

We manufacture and supply one of the finest quality of dynamic boxes to our customers. We have a large number of satisfied customers who are keen to avail our products and services. We have designed an informal business approach whereby, we motivate our customers to have interactive sessions with us regarding our product quality and suggestions for improvement. We follow ethical business practices so that our customers remain with us for a long period of time. Our team of dedicated and determined professionals are always ambitious to provide quality products in a pre-planned manner.

We have adopted latest technology in the manufacturing part and we do make use of modern equipment to achieve our target. We are cost effective and customer budget friendly and we prepare the layout structure of our products in a very economical manner. We follow the best quality control standards and norms in the making of our products and strictly follow timely delivery of our products. We cater to the needs of various industries like pharmaceutical, chemical, electronic and so on.
TECHNICAL PARAMETERS
Construction Stainless Steel
304 / 316 / 316 L or combination
Door
Solid door w / mechanical or electrical interlocked
Window
Tempered / Toughen Glass
UV Lamp
Yes
HEPA Filter
Yes
Suction Filter
Stainless Steel, 95% down to 5 µ Efficiency (EU-4 Rating.)
Supply Filter
Aluminum, 99.999% down to 0.3 u (EU-14 Rating.)
Blower
Dynamically balanced Motor-blower with suspension arrangement
Air Velocity
0.45 + (-) 0.05 mps
Noise
< 78 dB
Power Supply
220 / 230 Volts Single Phase 50Hz
Accessories
Hour meter, Magnehelic / Minihelic Pressure Gauge
Electricals
Hour Meter, Fluorescent light, UV light, Electromagnet for door interlocking, Buzzer and Indicator lamps, ON/OFF Switch for blower
DOP Test Port
Yes
Cleanliness
ISO Class 5 (ISO 14644-1: 1999(E))
Certifications
ISO
Applications :