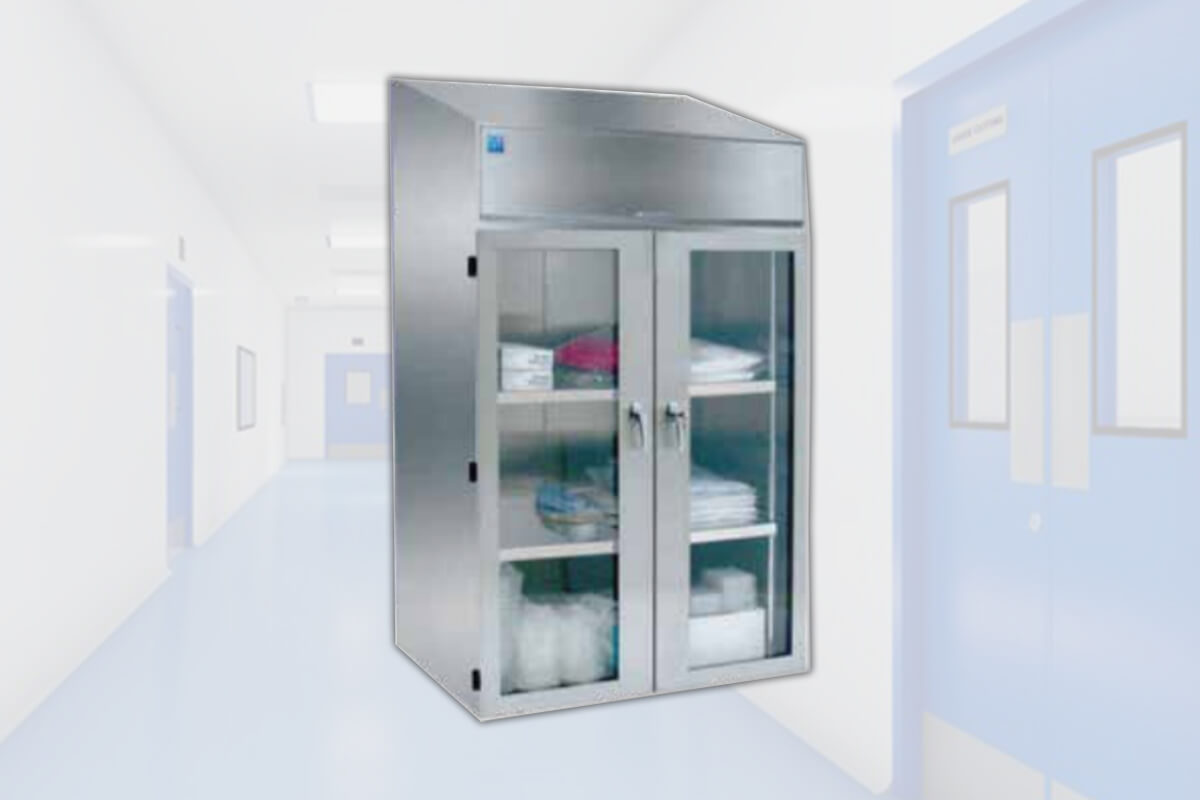 Garment Storage Cabinet (STATIC)
What is a garment storage cabinet:
It is one of the cleanroom equipment used to store cleanroom garments and other materials. The garments and other items stored in the cabinet gives protection from harmful pollutants and on the other hand it prevents the foreign particles from your clothes to pollute the materials inside the clean room. Storing of all garments and clothing related materials gives an assurance that they remain completely free from any kind of contamination. Though majorly used in the medical industry for keeping garments safely, it also has extensive usage in other industries like food processing industry, aerospace, optical industry and so on.
Manufacturing and features:
At map filters, we are keen to supply best quality garment storage cabinets you can find in the industry. Our cabinets are made up of high quality stainless steel material (304/316) with a powder coated body. Steel being a corrosion resistant material provides a polished look to the cabinet. It is the most ideal equipment to store medical tools, wipes, process equipment along with garments. We provide both- standardized model as well as customized model to our customers. The customized equipment is manufactured on the basis of specifications and details as forwarded by our customers as per their requirements and needs. The device comes with multiple adjustable shelves. Some of the salient features of our cabinets can be summed as under:
It is a very user friendly device, the functions are simple to understand and easy to operate.
The power consumption required is minimum and hence it is cost effective.
The designing part is not complex process with horizontal or vertical air flow system.
The cabinet has two stage filtrations- pre filter and HEPA filter.
There are two kinds of storage options available viz. adjustable shelves and hanging rods.
It is equipped with a blower ensuring sterile garments storage.
We are one of the prime exporter and suppliers of garment storage cabinet in the market. We have a large number of client base who are satisfied with our products and services we provide. This has been possible only because of the excellent quality cabinets we provide to our consumers. We have a team of dedicated and determined professionals who are always happy to provide good services. Our manufactured cabinets get tested through different parameters by our team of skilled quality controllers and technicians. Our after sales services are also framed in a simple manner and our customers don't find our policies as cumbersome.
Technical Parameters
TECHNICAL PARAMETERS
Construction
MS Powder Coated/SS 304/SS 316 or combination of both
Filtration
1st Stage Fine Filter with efficiency of 95% down to 5 micron
2nd Stage HEPA Filter with efficiency of 99.999% down to 0.3 micron
Motor Blower
Dynamically balanced with suitable ratings & suspension arrangement
Doors
Single or Double Sandwiched Door (as per size & user requirement)
Fitted with Flag type hinges.
SS Handles
Electrical Accessories
LED Lights
5/15 Amp switch socket
ON / OFF Switch
Air Quality
ISO Class 5 (ISO 14644-1: 1999)
Velocity
0.45+/- 0.05 mps
Air Flow Direction
Vertical or Horizontal
Noise
Less than 67dB
DOP / PAO Port
Optional
Optional Features
Audio Visual Alarm for HEPA Filter condition
UV Light with hour Meter
Applications :